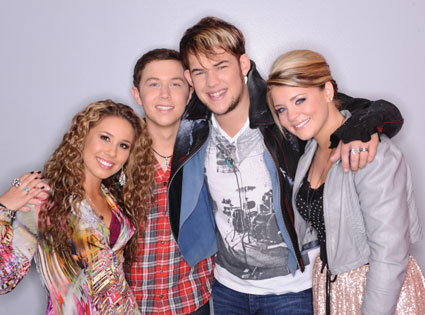 Michael Becker / FOX
The final three get an Idol-paid trip to their hometowns, where they'll be interviewed on the radio, meet local luminaries and, per tradition, find out which song the judges have picked for them to sing on next Wednesday' three-tune performance show.
Big-time stuff! The only question left is who the voters went for after a controversial show, where the judges split (2 to 1) on Haley Reinhart's take on Michael Jackson's "Earth Song," and then more than a few viewers perceived the husky-voiced hopeful's reaction to Jennifer Lopez and Randy Jacksons criticisms to be on the rude side.
Nope! Or if they did, they didn't care, because Haley made the top three, along with Lauren Alaina and...wait for it...Scotty McCreery, the first time two girls have made the top three since Jordin Sparks and Melinda Doolittle in season six.
So, it was the unexpected end of the road for James Durbin, who rocked the house week after week, consistently avoided being in the bottom three and was "in it to win it" from the get-go.
But the record (at this stage of the competition) 72 million votes that were cast didn't go his way, even though the judges (especially Randy) thought he made a fantastic choice in choosing Journey's "Don't Stop Believin'" and then did an inordinately good job with "Love Potion No. 9.
"Man, I worked so damn hard to get here and, God, I was really hoping to get there," James said, sniffing back tears. "But I had a feeling today and...and I did so much stuff that's never been done on the show before, and..." He trailed off as applause took over.
"In my eyes," he continued, "in my mind, and what I believe is that I did what I came here to do, and that was to give metal a chance."
Jennifer Lopez had tears in her eyes after she heard the news. I did too.
And he certainly did, though he capped off his run on the show with his cover of Paul McCartney's "Maybe I'm Amazed."
But now Lauren, Scotty and Haley are going home—in the jet.
SereneLdy is sad to see James go. I really think he should have won, but I guess many did not. Now who do I want? Hmmmmmmmmmmmmmmmmmmmmmm I truly believe someone great will sign him.